Tips for the Holiday Season
Bunny-Safe Tips for the Holiday Season
This holiday season many of us will be decorating our homes. Although certain safety precautions need to be taken when you share your home with a rabbit, it is definitely possible to create a holiday atmosphere that is festive, fun, and safe for all!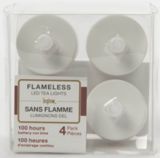 Candles: All candles should be placed well out of your jumping bunny's reach. Be conscious of tablecloths that hang down to the floor as these may be pulled at or nibbled by a curious bun. Consider using inexpensive little battery operated LED candles instead; if your decorative holder hides the LED unit well enough, an artificially flickering flame can be quite convincing.
Christmas Tree: If you have a Christmas tree, create a  barrier to keep your curious buns away from the base and any electrical wires using an exercise pen or white storage cube squares (connect squares using white nylon zip ties). Depending on your decorative colour scheme, dark coloured storage cube pieces may look better – assess the decorations you already own and pick the right barrier colour for you (if you go dark, you'll want to purchase the dark zip ties). Although it's okay to allow your rabbit to nibble on a natural, chemical-free tree, you don't want your rabbit consuming dirty water or sugary water from the tree stand in any case. Never let your rabbit chew on a fake tree or a tree treated with flocking (fake snow) or fire retardant chemicals. Fire retardant chemicals are invisible, so always ask the seller at the lot if your tree has been sprayed.
Decorations: Avoid tinsel on your tree or around your home as it is very harmful if ingested by your rabbit. Stick to solid, non-shedding ornaments that are securely hung up high and out of your bunny's reach. If you would like to decorate your rabbit's play area, you may wish to lay down festively coloured fleece fabric or even purchase rabbit toys that are shaped like ornaments.
Lights: If you are going to string up electric lights, be very sure that none of the strands can be reached by your rabbit. It is important that you deny your bun access to any and all cords, without exceptions. We've all seen The National Lampoon's Christmas Vacation… let's not put our buns at risk!
Gifts and wrapping: Simply placing gifts out of your rabbit's reach is the easiest way to avoid your little nibblers from eating any bits that they shouldn't. If your tree has been penned-off you're all set to place gifts safely under the tree. If not, consider piling presents attractively on a table beside the tree. Don't let your rabbit consume any ribbons, tape, bows or wrapping paper as these products can cause serious health problems.
Party time: If you will be entertaining guests, don't be shy about laying down some ground rules regarding your buns! At the Buns Boutique household we always gently inform our guests that our rabbits are not to be picked up or fed human foods. Always set bowls of sweets or other snacks up out of your bun's reach (chocolates, nuts, and salty snacks can all be quite toxic). If you expect a large number of guests, it may be less stressful for your bun (and you!) if you close them up in their cage/condo/room and leave them in peace to munch on hay. The last thing anyone wants is to accidentally step on a friendly rabbit who has suddenly appeared underfoot!
Rabbits are curious creatures and it is up to us, their caregivers,  to make sure that they are safe at all times. Try to stick as closely as possible to your rabbit's regular routine in terms of diet and playtime/exercise throughout the holidays. Of course, extra snuggles are always appreciated!
Do you have a bunny-safe holiday tip? Please share in the comments below!